This article accompanies the fable
Poison Pen Letters
Letters to an Unknown Girl

Some writers permit publication of their private letters only after their own death, sensitive perhaps to public scandal. Prosper Mérimée's "Lettres à une inconnue" was published in 1874, four years after his death. It reveals he had a lifelong correspondence with a much younger woman, who turned out to be one Jenny Dacquin. The correspondence had begun as early as 1831 and it ran to 331 letters. The last one was written the day he died.
It seems to have been her initiative to publish them. Did she ask his permission before he died? We don't know, but she was not identified as the inconnue until she admitted to it in 1892, a few years before her own death. They probably did not have an affair but who's to say? She wanted to marry; he didn't and she accepted that. The title of the book is highly evocative, highly romantic. Who doesn't want to believe in a secret admirer? As long as they don't become obsessed…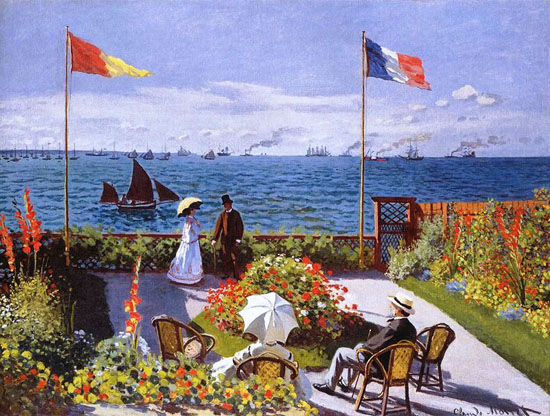 Dacquin was born in Boulogne-sur-Mer in 1811. She began writing to Mérimée in 1831 when she was 21, but they didn't meet until nearly 10 years later. After this she settled in Paris where she lived the rest of her life at 35 rue Jacob, in Saint-Germain-des-Prés. She never married. Above: Claude Monet's Garden at Sainte-Adresse (Jardin à Sainte-Adresse) - from 1867 - in New York's Metropolitan Museum of Art.
Natalie Barney's famous salon of many decades was nearby, at 20 rue Jacob (here). In one of those coincidences I find appealing, a few years after Dacquin's death, a young Natalie Barney had an affair with the Folies Bergères dancer and courtesan Liane de Pougy (below), and Barney wrote about it and called it Lettres à une Connue (Letters to a Woman I Have Known), presumably echoing the Mérimée title. It was never published...