This article accompanies the fable
Life as Opera
The Rise of the Femme Fatale

There was a sense of theatricality about bohemian life in Europe's cities in the late 19th century. At a time when imperialism was revolutionizing the arts, it seemed that writing and composing were not enough—one had to be larger than life to get attention.
Lola Montez's breast baring performance and the fact that those breasts practically paralyzed the men looking at them (whether in reality or in story) was in this tradition. Céleste Mogador's wasp waist could drive men crazy. The wasp waist has exercised a powerful erotic effect on men over the centuries with its accentuation of the feminine, dividing feminists because although it has forced many women into tight corsets over the years, it was also shaped by nature. Such women soon were characterized as femme fatales, beautiful and ambitious, selfish and even deadly if they wanted to be. The most dangerous, of course, were the acid throwers. Below is Eugène Grasset's La vitrioleuse (The Acid Thrower) from 1894 - in the Hammer Museum, Los Angeles.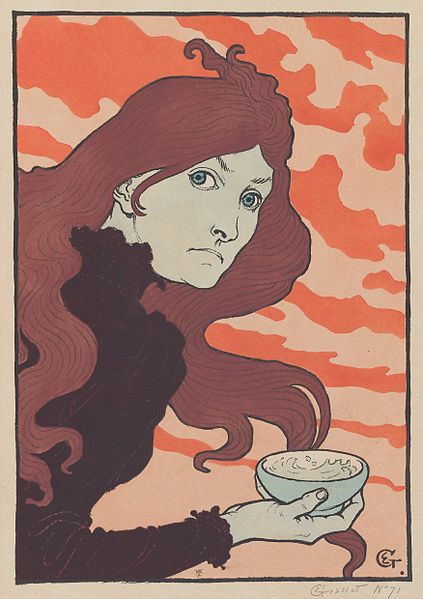 Though such women did exist, they were rare. Most femme fatales were impressive for their defiance, their creativity and their survival skills and some feminist writers now celebrate them as models for today's women, just as much as the suffragettes.
Perhaps Gustav Klimt captured the era best. Below is Die Sirenen ("The Sirens") of 1889, known in English as The Water Nymphs aka Silverfish, aka The Mermaids: femme fatales in action in Vienna...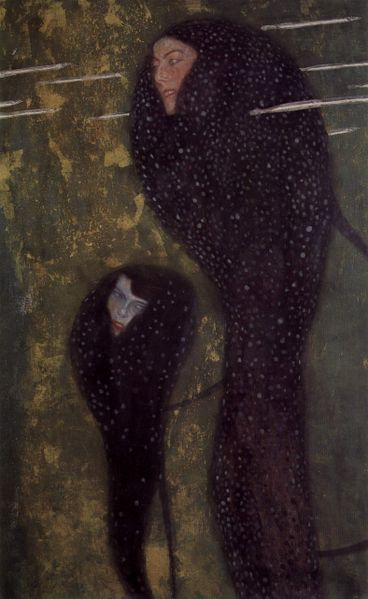 Klimt's fascinating painting of 1916-17, Die Freundinnen ("The friends") was of two lesbian friends. Like a number of other Klimt paintings it was destroyed during World War II. The most popular theory has it stored in Schloss Immendorf, Austria, in 1945 when retreating German troops burnt down the castle and everything inside it, but there are several other explanations. This is a colorized reconstruction from a black and white photo.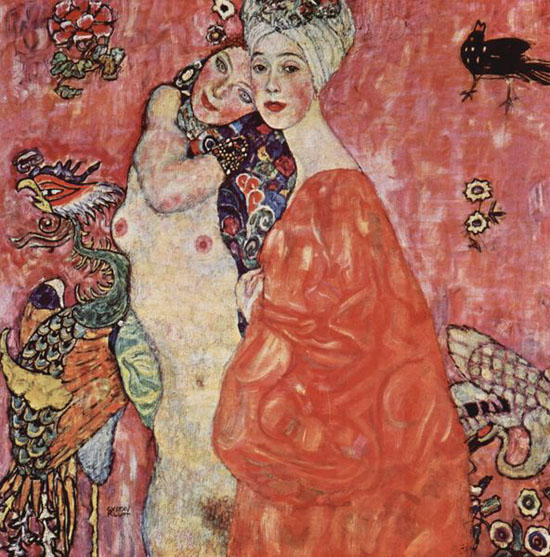 And then there is the famous Mulher sentada de coxas abertas (1913) which has made it on to how-to-masturbate pages everywhere (like anybody needs advice on this). Translated from the Portuguese: Woman seated with open thighs...