This article accompanies the fable
A Tale of Two Women



José Clemente Orozco
This is JosÚ Clemente Orozco's great mural of CortÚs and Malinche (Cortés y La Malinche) as Adam and Eve. Is the figure beneath them Mexico? It is hard to see this mural of 1926 as anything other than a very negative image. Then compare this with his other brutal painting, Hernán Cortés, lower down, from the late 1930's.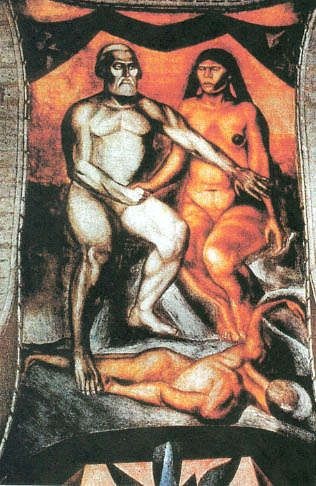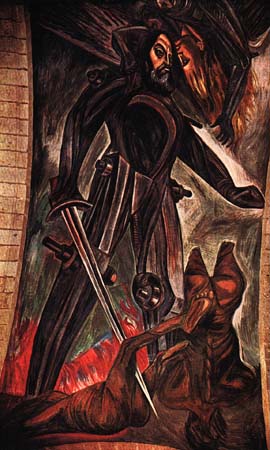 Orozco was the most pessimistic of Los Tres Grandes muralists - his works are marked by a greater violence and sense of rage and horror. His conquistadors can be robot-like amid fires and destruction and executions. Even his more positive figures resemble William Blake's hallucinatory imagery - as in Quetzalcoatl who is forced to flee Mexico when no one listens to him anymore (here).
The upper image is in the Antiguo Colegio de San Ildefonso, Mexico City (their website here). The lower image of Cortes is from Hospicio Cabañas, Guadalajara, which is no longer a hospital, but a treasure trove of Orozco murals and a World Heritage Site (website here).