This article accompanies the fable
The Woman in the Bower



The Tristan and Yseult legend
Tristan and Yseult (or Isolde) became popular when Henry and Eleanor were on the throne. French-English and German storytellers all took a crack at enhancing the older Celtic plotlines. As Joseph Campbell put it, the legend dramatizes a conflict between love and marriage, in an era when aristocratic families were forced into arranged marriages that had little to do with love.
Perhaps it started something. Within a decade or two, Chrétien de Troyes was writing romances for Countess Marie of Champagne (Eleanor of Aquitaine's daughter) and so we got the adultery of Lancelot and Guinevere and the appearance of the Holy Grail before 1200. Tristan himself was brought back by the 1230's to join the knights of the Round Table but Yseult apparently never made it back. Adultery was also the central theme in the poems of Marie de France, who is associated with the court of Henry and Eleanor. In the decades that followed, it would all be swept away by the Albigensian Crusade.
These legends were extremely popular among late Victorian and Edwardian painters such as Edmund Leighton who tackled the lovers in 1907 (below). Tristan's harp is a key part of the story - it is what first entrances Yseult and enables them to fall in love - although they don't know it.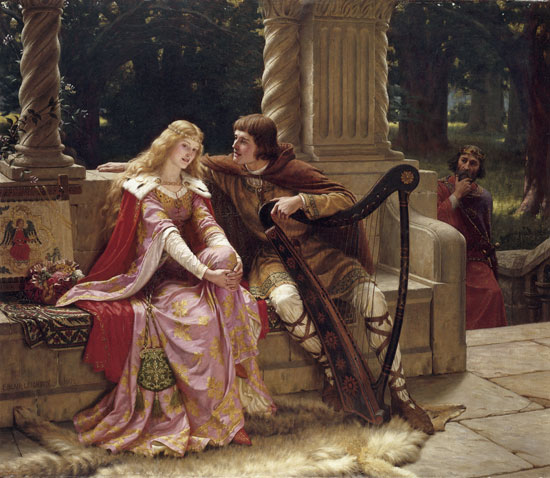 Below is Herbert James Draper's version from 1901.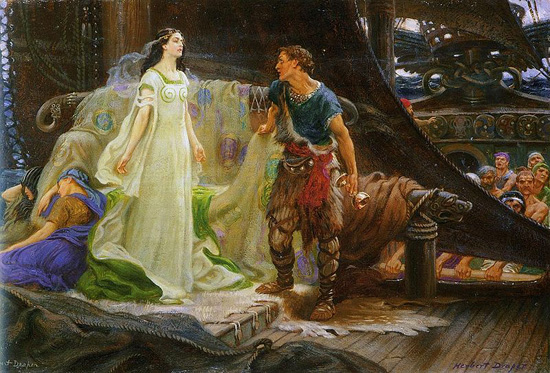 For other related paintings and links, see:
Wagner opera Tristan and Isolde
Salvador Dali's satirical painting Tristan and Isolde
Tristan's Stone, a grave marker in Fowey, Cornwall