This article accompanies the fable
Precious Bodily Fluids



Torquato Tasso

These days almost no one has ever heard of Torquato Tasso, let alone that he was the preeminent European poet of the 16th century. His reputation rested on his pastoral play Aminta (1573), his epic poem Jerusalem Delivered (Gerusalemme liberata) (1581) and his reputation as a mad poetic genius.
Jerusalem Delivered was written against the backdrop of imminent Ottoman invasion - the battle of Lepanto was in 1571, off the Greek coast. The highlight of the poem for many readers was the love between Armida, an exotic Saracen sorceress and Rinaldo, a great and noble warrior in the First Crusade. Armida in particular inspired painters, writers and musicians all across Europe - Van Dyck, Poussin, Boucher, Tiepolo, Monteverdi, Handel, Vivaldi, Haydn, Brahms, Liszt, Rossini, Goethe, Byron and Shelley, to name a few. Spenser, Sidney and Milton admired Tasso. Not Shakespeare though? Perhaps Aminta influenced his pastoral comedies.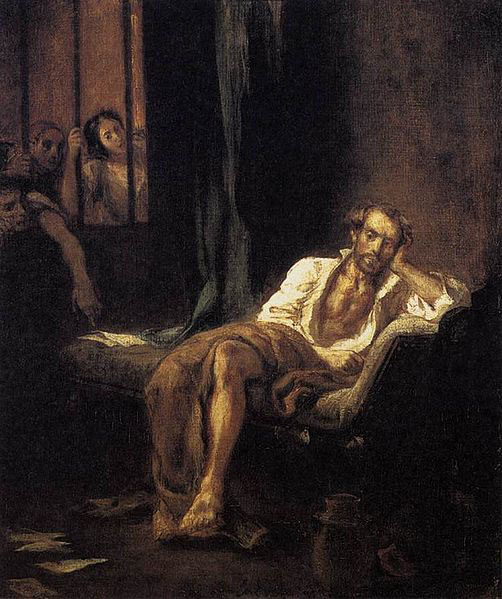 Tasso himself was born in Sorrento and considered a Neapolitan poet, but he lived all over Italy. His longest stay was in Ferrara at the palace of Alfonso II d'Este where he arrived in 1565. Against type, he remained there, on and off, for more than 20 years. However his fits of madness increased after 1575 and he spent many of the later years inside the Ospedale di Sant'Anna (here). It was there that Montaigne visited him in 1580. Tasso left Sant'Anna in 1586 and he spent his last decade wandering like Lear on the heath after the storm. He died in Rome in 1595 aged 51.
Tasso underwent a revival in the Romantic era when artists were fascinated by the idea of the genius locked up in the madhouse. Above is Tasso in the Hospital of St Anna at Ferrara (1839) by Eugène Delacroix. It goes by various names because it is held in a private collection. Below is an arguably more flattering portrait from 1590's Florence, painter unknown. It is in the Pitti Palace, Florence.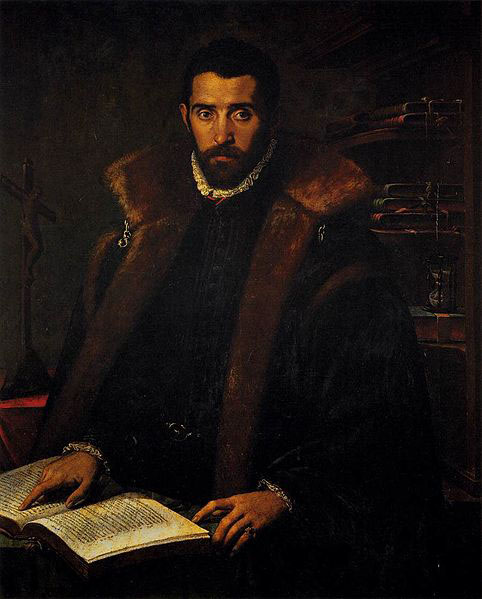 Below is his last stop: Sant'Onofrio in Trastevere, Rome. Photo: Lalupa.