This article accompanies the fable
Life as Opera
The birth of cabaret
Cabarets developed on two tracks: clubs and music halls and they were different.
Les Hydropathes, founded in 1878 in the Latin Quarter, was short-lived but it was so named because its hosts professed to hate water and so had to drink wine or beer. The guests agreed and flocked in to hear poetry and to be insulted (in verse and song) by the likes of Jules Jouy and other satirical, political singer-songwriters and MC's.
After 1881, Le Chat Noir and Moulin de la Galette in Montmartre were the places to be. They had indoor and outdoor dance halls, as can be seen in the paintings of Renoir, Toulouse-Lautrec and others. But these were really clubs with tables and chairs, not music hall auditoriums. Below is Théophile Steinlen's famous poster for Le Chat Noir. Rodolphe Salis was the owner and MC of this celebrated cabaret and during the early 1890's he took his Chat Noir shadow puppet theater troupe on tour. This poster is from 1896; Salis was dead the following year.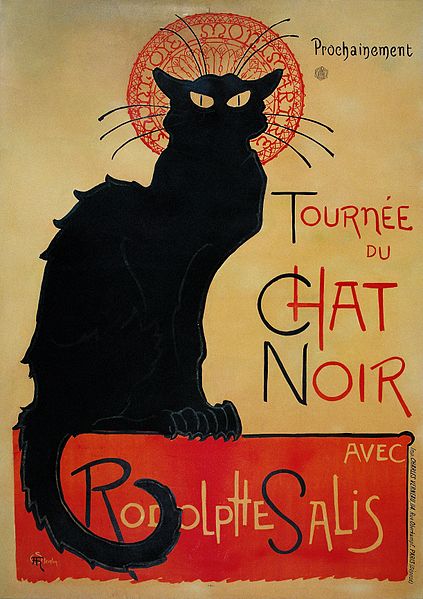 The music halls took a different route - after 1886 new management at the Folies Bergère (below) dropped the pantomimes and focused their shows around women wearing sumptuous and scanty costumes and performing sexy dance routines. It worked! Then, in 1889, the Moulin Rouge opened and became instantly famous with its can-can. By 1890, you could say that sex was giving the political satire and heavy drinking a run for the money.