This article accompanies the fable
Splendour in the Grass



The Bone People

The Bone People (1984) by Keri Hulme is the best New Zealand novel I have read and I have read a few. Some reviewers have difficulty with the style (a "shambles"), but they are unwilling or unable to enter the mind of someone so scattered, or shattered, and that is the magic of the novel. It's inside Keri Hulme's mind.
Something rarely observed by reviewers is the setting, which for me is an indeterminate beach on the Canterbury coast where the sun comes up upon the sea and sets on the Southern Alps where the braided rivers flow to the sea. Hulme grew up and went to school here, in Christchurch, not the West Coast where she now lives, or so I'm told, and some reviewers seem to think it should be the West Coast. No.
The photo below is a little further north, the Kaikoura Coast, but the mood is the same. Tangaroa...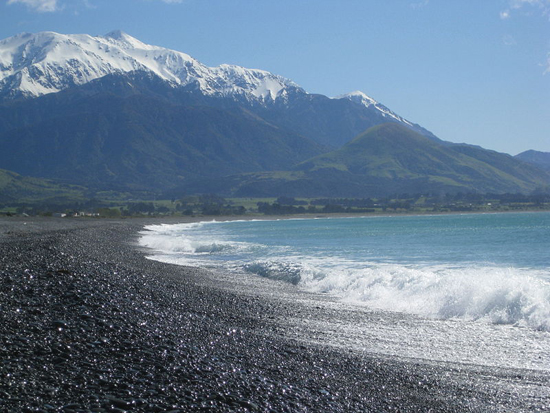 The novel touches on the illegitimacy theme because its triad characters include Simon, an orphan who is washed ashore and the adults who take him under their wing.
The relationship between Kerewin, Joe and Simon forms an Oedipal allegory for the formation of New Zealand. I see it as Maori father, British or "mongrel" mother and the disturbed child who represents the young New Zealand (others read the allegory differently). It's a dark vision but this is storytelling, not reality.
Below is one of the braided rivers of the Canterbury Plains, this one being the Rakaia. It's an apt metaphor, just like the spirals that permeate The Bone People, the sinews and bones of the body. Papatuanuku...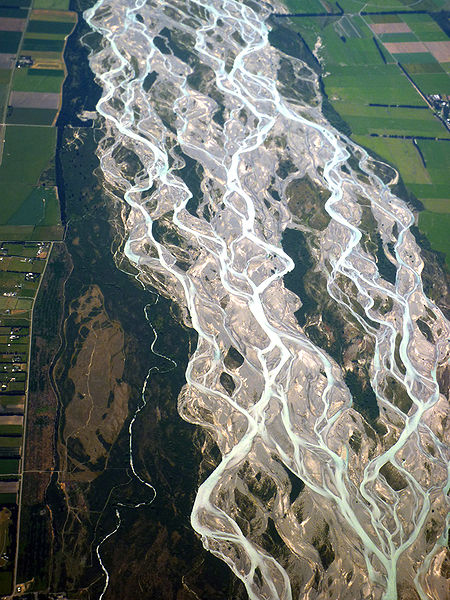 Upper photo credit: Agsftw; lower photo: Andrew Cooper