This article accompanies the fable
Immortal Beloved



Teplice, Czech Republic
Beethoven knew it as Teplitz, at a time when the majority population spoke German. It was a popular spa town for artists, writers and the aristocracy and Beethoven met Goethe here in 1812 and began writing Symphony No. 7.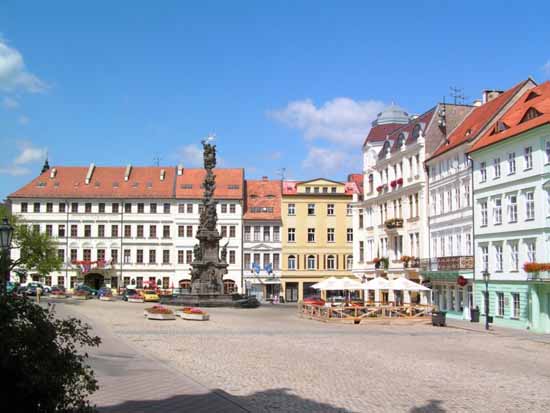 Above is the Castle Square today, Zámecké námestí in Czech, with the plague column at one end. These plague columns (Pestsäulen in German) dot Catholic Central European cities, especially in the Czech Republic and Austria - there is an incredible one in Olomouc. Most of them were built in the 17th century during the Counter-Reformation when it was believed that the Virgin Mary could deliver a town from plague, famine and Protestant armies. They are Baroque in style with saints and angels and the Virgin Mary often stands astride the top.
Below is a painting from Beethoven's time: Dresden-based Karl Gottfried Traugott Faber's Dr. Struwes Trinkhalle in Teplitz-Schönau mit Kurgästen in der Wandelhalle (1822) - spa guests in the covered walkway of the Pump House (trinkhalle).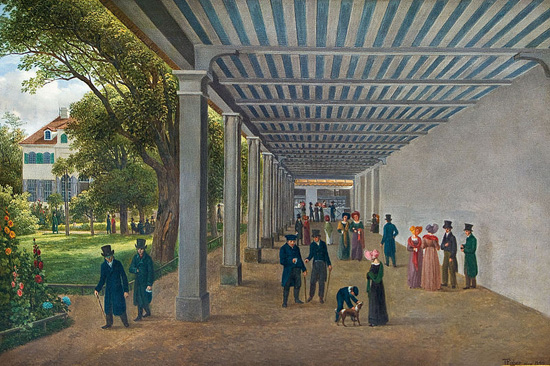 Also see -

Duchcov, a nearby town where Casanova spent his last years - here - note the plague column. For more on the Plague - here.
The Virgin Mary of the Apocalypse - here.