This article accompanies the fable
Women in Trousers


Takarazuka and Harajuku
Takarazuka is an all-female theatre troupe named after the northern suburb of Osaka of the same name that was founded in 1913. The photo below is of the Grand Theater in Takarazuka (they have another in Tokyo). Unlike the all-male traditional Kabuki, Takarazuka is a hybrid of traditional Japanese and Western stories and stagecraft, with adaptations of manga (like Rose of Versailles), novels, films, musicals and operas (including Carmen, Manon and Turandot). The fascinating Elizabeth of Bavaria ("Sissi"), who was assassinated in 1898 at Lake Geneva, is the new favorite at Takarazuka.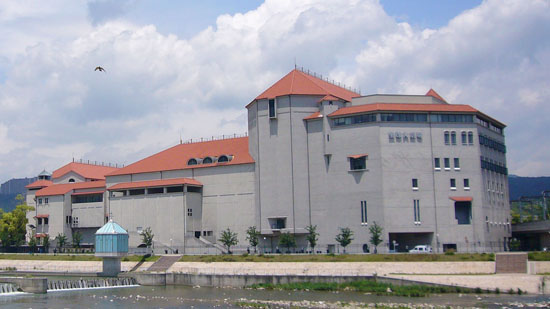 You can spot a current or former actress of Takarazuka anywhere else in Japan from the way she carries herself – the manner of walking, speaking, looking. Some call it kitsch and are embarrassed by it, but this completely misses the point. It's a style, a mark of identity, belonging to an exclusive club, one that its members think is worth belonging to.
The fact that Takarazuka originated near Osaka in Kansai province (as opposed to in the Tokyo/Kanto area) is significant, since Tokyoites think their city is the center of the universe and they can make fun of Osaka. Tezuka ("the father of anime") was from Takarazuka and Ikeda is from Osaka prefecture.
Harajuku is a famous area in Tokyo that undeniably owes a debt to Takarazuka. Although it was most popular in the 80's and 90's, tourists still line up to get photos of Japanese Lolitas and Goths and the phenomenon has spread across Tokyo, to Akihabara, Ikebukuro, Shibuya... Many Japanese manga artists and cosplaying teens seem to love grabbing from the foul rag and bone shop of Western art and history.