This article accompanies the fable
Life as Opera



Sappho

This is Sappho by French painter Charles Mengin (1877) in Manchester Art Gallery. It pretty much captures her racy reputation throughout the 19th century. Although it was said that Sappho wrote love poems to her female students, this painting chooses to illustrate a story that said she threw herself into the sea when she was rejected by Phaon, the ferryman. For most of the century she was another falling woman...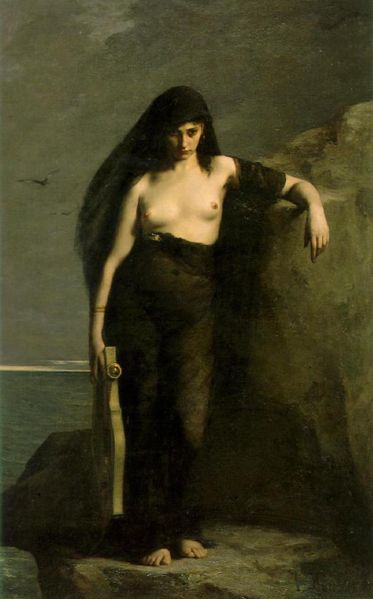 Modern scholarship will have none of that of course. While skeptical that any of her poetry can be read as autobiographical, nonetheless it is allowed that the poetry may have expressed a romantic love for women - in the context of 600 BC. Nowadays the fragments of her poems continue to draw the interest of many translators.
But back to the 19th century, her admirers remained constant. They included sculptors Antonio Canova and Auguste Rodin, and painters like Jacques-Louis David and Antoine-Jean Gros through Romantics such as Theodore Chassériau, to Pre-Raphaelites like Simeon Solomon to Jules Elie Delaunay, Lawrence Alma-Tadema, Gustave Moreau, Gustav Klimt and John William Godward at the end of the century. None of them are as interesting as Mengin's painting. The suspicion throughout is that the falling woman dying for unrequited love of a man was really a fallen woman dying because of her love for women.