This article accompanies the fable
Kama Sutra



Sahib Bibi aur Ghulam
Sahib Bibi aur Ghulam is set in Calcutta (now Kolkata) and it is Bollywood's Citizen Kane. It traces a historical arc, from the turn of the 20th century, when the British Raj was at its tipping point, through 1962 when the film came out, when India was suffering from a post-colonial malaise, symbolized by military defeat by China, and it took its creator Guru Dutt and his colleagues down with it.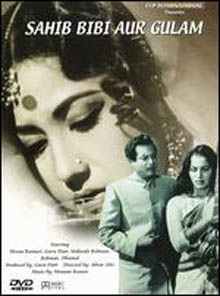 Celebrated for her tragic roles, Meena Kumari is luminous as the long suffering wife. Already a household name, she won the Bollywood equivalent of the Oscar for Best Actress for her performance (she won the award four times in her career) and some have called this the finest performance in Indian cinema.
Guru Dutt was the film's lead actor and also the film's producer and (although it is attributed to his associate Abrar Alvi) instrumental in its direction.
Guru Dutt's wife, Geeta, sings the famous songs in the film, which are lip synched by Meena Kumari's character. Like the rich zamindar family in Sahib, Geeta was born into wealth. However, although they had three children, the marriage was unhappy.
By 1957, Guru Dutt was seeing Waheeda Rehman. They were still in a relationship by the time the movie was shot, although it was under strain and they split the following year. In the previous few years the movies they did together seemed autobiographical and in a piece of wish fulfillment perhaps, in Sahib her character ends up marrying Guru Dutt's character (it turns out their characters were already married when they were tiny children, but that's another story). Like Meena Kumari, she grew up in a Muslim family and her beauty inspired songwriters to outdo themselves in writing songs for her. She is the only principal still alive and active in many ways, including charity work, even appearing in Rang de Basanti.