This article accompanies the fable
Precious Bodily Fluids



Verdi's Rigoletto
The story of Verdi's Rigoletto (1851) is loosely based on Victor Hugo's play Le roi s'amuse ("The King Amuses Himself").
Hugo's play was written in 1832 but banned after one performance since it went out of its way to insult the current King. Hugo set his play in the Paris of François I, however there were resemblances to the Mantua of Vincenzo Gonzaga, which may be one reason why Verdi chose to relocate it there.
Nowadays Rigoletto has much more of a reality about it than the Hugo play and so old houses are renamed so as to create the new reality. You can visit the Casa di Rigoletto, a museum near the Ducal palace on the Piazza Sordello where you find this statue shown below, or you can visit "Sparafucile's House," which is really a modest guard tower just across the river from Mantua.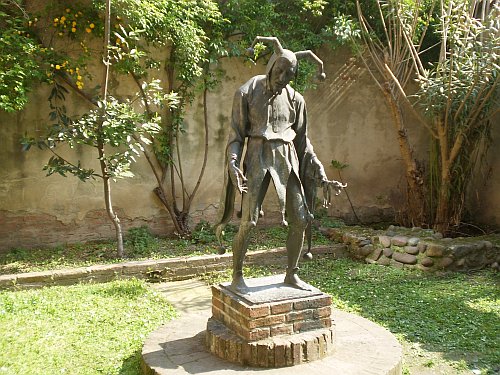 The Duke of Mantua in Rigoletto does resemble Vincenzo Gonzaga - a womanizer whom we could imagine singing "La donna è mobile" ("Woman is fickle"). Also, Vincenzo's father was hunchbacked not unlike Rigoletto, although Rigoletto is a court jester and in no way royal. Then there is Sparafucile, the assassin who helps recall the murder in the Mantua street of James Crichton.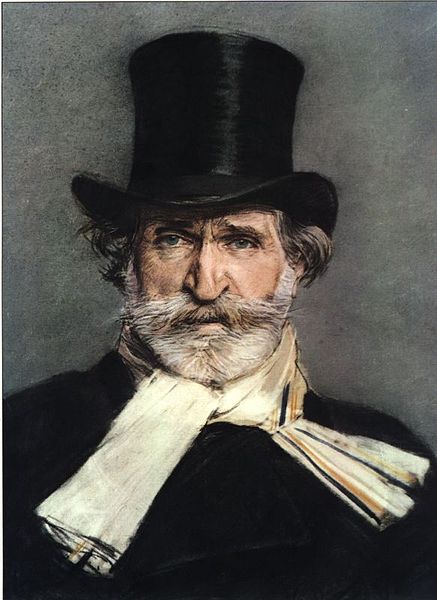 This great portrait of Verdi by Giovanni Boldini in 1886 reportedly inspired film director Luchino Visconti when he cast Burt Lancaster in The Leopard. The painting is in the National Gallery of Modern Art in Rome.
Verdi loved Shakespeare. He composed Macbeth earlier in this career in 1847 and tackled Otello and Falstaff quite late in life, in 1887 and 1893 respectively. Verdi wanted to create an opera around King Lear at times too but it defeated him. He is buried in Milan at the Casa di Riposo per Musicisti, a retirement home for musicians which he founded. It is shown below (photo: Franco Folini).