This article accompanies the fable
From Russia with Love



A fire in Oxford Street
The fire broke out early evening in Oxford Street in the offices above a store, when irate customers complained that the notes they had received at the cash register had turned into blank pieces of paper. Police have not commented on their investigations, which are considered unsolved at this time. However eyewitnesses did see a number of partygoers in fancy dress, or actors from a musical, leaving the Palladium and headed for Oxford Street. "I thought they were looking for trouble," commented one taxi driver.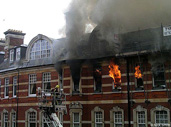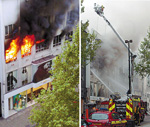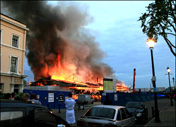 In the two month period before and after Walpurgisnacht, multiple fires broke out around London's theater district and none of them had a satisfactory explanation. Witnesses thought they saw pranksters dressed in a giant black cat costume and a Harlequin suit outside the Royal Albert Hall flats. Others saw a silver limo pull away from the Cutty Sark fire but police refused to link it to the other fires since there are no theaters nearby.
In the case of the Albert Hall flats, one woman, who did not want to be named, said the ceiling of the flat below the fire had collapsed under the weight of the water. "What's next?" complained one Londoner. "40 days and 40 nights of floods?"