This article accompanies the fable
From Russia with Love



The Nutcracker and Swan Lake
Tchaikovsky's The Nutcracker occupies an ambiguous place in Russian ballet because, even more than Swan Lake, it has been adopted in the West as a quintessential family ballet, devoid of its original Russian essence, pushed out by sugar and spice and all things nice (Mark Morris' delightful The Hard Nut included). The Russians are aware of this but they are realists.
Yet The Nutcracker has a bizarre storyline: is Clara having a nightmare or what? The potential for "dark" interpretations is boundless, quite aside from the kitsch, which is why it is actually the perfect ballet for pessimists.
The story always was international of course: based on an E.T.A. Hoffmann story in Germany, adapted by Alexandre Dumas père in France, then somewhat ambivalently set to music by Tchaikovsky in Russia. The ballet, his last, premiered in 1892 in St. Petersburg but it was not successful (whereas The Nutcracker Suite was instantly popular - as music). Tchaikovsky's Nutcracker did not seem particularly Russian, with its names like Clara, Fritz and Drosselmeyer and Spanish, Arabian and Chinese dances along with the Russian ones. This was a criticism Tchaikovsky faced repeatedly from nationalists throughout his career.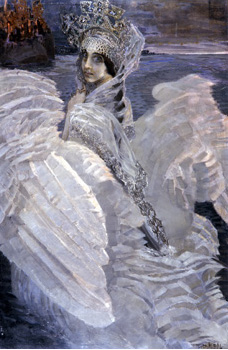 Then there's Swan Lake...with Odette, Siegfried and Von Rothbart (more Germans). Like The Nutcracker, Swan Lake (1877) wasn't popular till the 1950's and mostly outside Russia, for example in the United States with George Balanchine's celebrated versions from 1951 onwards.
Swan Lake is almost as bizarre as Nutcracker. After all, in the original version, Odette and Siegfried drown themselves in the lake since it's the only way to break the spell of the evil sorceror Von Rothbart. Modern Russian ballet companies, fed up with this, have switched to happy endings; non-Russian companies mostly favor the suicide ending. There's a message in that.
For pessimists then, the appropriate Russian painter is Mikhail Vrubel, whose The Swan Princess (1900) is shown above. That's his wife in the picture - she was a celebrated opera singer. Vrubel's life was marked by tragedy and it shows in his work. His most famous paintings feature the Demon motif (here), combining the occult, androgyny and romanticism destroyed...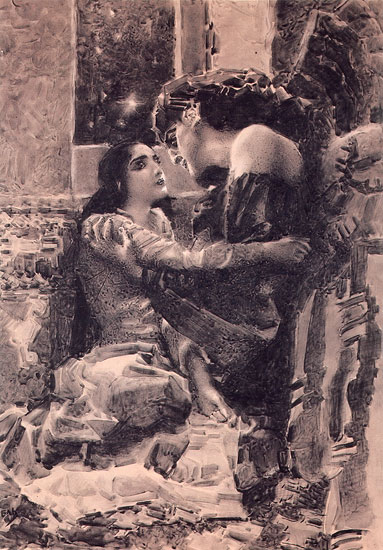 This is Vrubel's black watercolor Tamara and the Demon (1890-91), an illustration for a Lermontov story in which the Demon seduces her, they spend the night together and then Tamara dies. The Demon wants to take her soul, but the Angels prevent it and the Demon cannot follow her to God.

Back home