This article accompanies the fable
Life as Opera



Mérimée's Carmen

Bizet's Carmen is based on Prosper Mérimée's novella of 1845. So what is the novella based on, other than Cervantes' La Gitanilla?
Mérimée was relatively late to use Gypsy characters in fiction. Victor Hugo's The Hunchback of Notre-Dame, published in 1831, presents the young Gypsy girl Esmeralda in a heroic light. Mérimée also was aware of his friend Pushkin's poem The Gypsies, written in 1824 and published three years later. That poem is a narrative about a young Russian hero, Aleko, who falls in love with a Gypsy girl named Zemfira, who ultimately betrays him, and rage and jealousy overwhelm him. It ends badly... It is believed that Mérimée read the poem in 1840 and had translated it into French by 1852.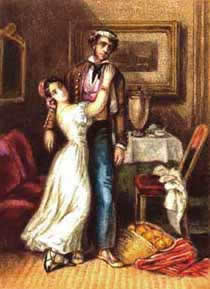 Mérimée painted the watercolor above for the 1845 publication of his Carmen. (See Mérimée and George Sand here...)
Over the centuries, the most popular image of Gypsy women may have been as fortune tellers, musician, dancers and prostitutes - in Caravaggio, Corot and Courbet for example. Perhaps the most interesting painter of romantic Gypsy (and Jewish) life in the 19th century was the Polish artist, Antoni Kozakiewicz. This one below - Kartomantka - fortune tellers again - is from 1884.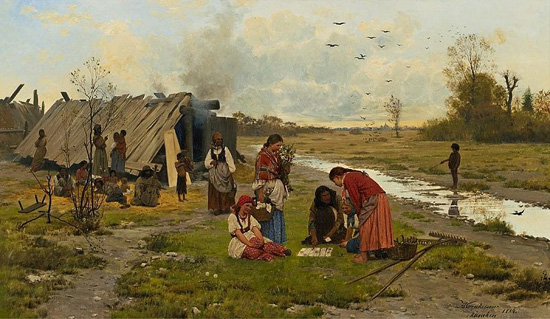 Also see the image at the bottom of this page.