This article accompanies the fable
The Woman in the Bower



Marie de France

We don't know much about Marie de France but we do have The Lais de Marie de France, 12 Breton lais (poems) comprising wonderful tales of adultery and romantic love, Celtic magic and the supernatural and they are available today translated in elegant prose (I have the translation by Hanning & Ferrante). Some have speculated that Marie was a member of the royal court of Henry and Eleanor, which puts Henry's dalliance with Rosamond in an interesting light.
Some of the poems are sympathetic to adultery while others are highly critical, in alternate order. They explore the dominant sexual fable of the time - Adam and Eve - an act of betrayal that is neatly captured in the same-era sculpture below, from high above the entrance of Notre Dame de Paris. The Serpent is a erotic woman looking at Eve, but she appears to be blessing their transgressions, or their love, depending on your point of view. Some comparisons here and here.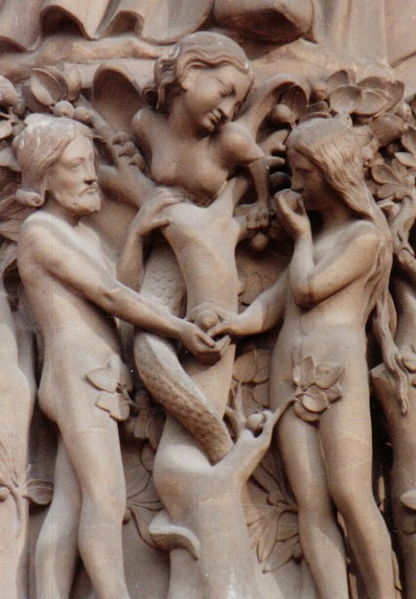 The lais include Guigemar, Equitan, Yonec, Eliduc - the Wikipedia synopses of these poems offer a quick introduction (here) but there are plenty of other synopses available on the web.
Photo: Rebecca Kennison