This article accompanies the fable
Alice's Mirrors



Lavinia Fontana
Based in Bologna, Lavinia Fontana specialized in portraits of wealthy families and she made a good living from it. But it is the painting below that fascinates more... It is titled Portrait of a Girl Covered in Hair or Portrait of Antonietta Gonsalvus (1594-1595) and it is in the Musée du Château, Blois.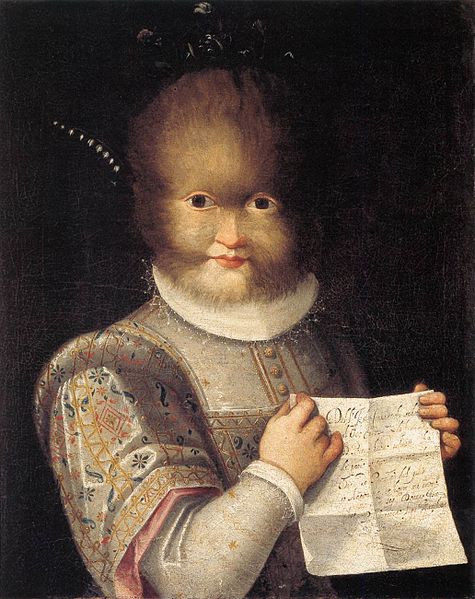 Antonietta Gonzalez, the subject of the painting, seems to be less than 10-years-old at the time. She, along with her father, two sisters and other family members were from the Canary Islands and they had a very rare genetic condition known today as hypertrichosis. In popular literature it was equated with "werewolf syndrome."
The family traveled around the the courts of Europe where they were feted and, although they were obviously objects of curiosity, it was a time when God had a purpose for all his creatures apparently, and scientific and medical hostility was restrained. When the family was in Austria, the family sat for portraits like the one at bottom of this page (of Antonietta), which is now in the Schloss Ambras, Innsbruck. For some reason Wikipedia identifies it as The Daughter of the "Hairy Man from Munich" which, I assume, is how they were known outside the royal court. The painter is unknown.
Below is Lavinia Fontana herself, in Self Portrait in the Studio from around 1577 when she got married. Her husband agreed to look after the children so that she could continue her career. It is in the Galleria degli Uffizi in Florence.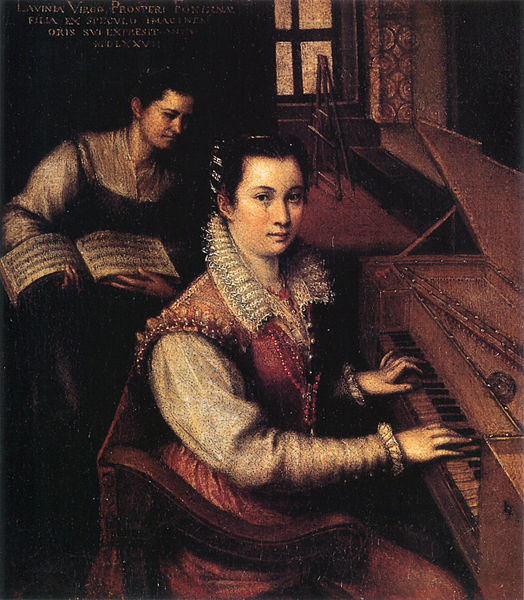 Below: the painting of Antonietta in Schloss Ambras...