This article accompanies the fable
A Tale of Two Women



La Celestina

La Celestina is regarded as the greatest work of early Spanish literature aside from Don Quixote. Written by Fernando de Rojas and published in different editions between 1499 and 1502, it certainly must have influenced Cervantes. The initial title was Comedia de Calisto y Melibea (later it became a Tragicomedia), but it was La Celestina that stuck.
The story is set in Salamanca and it tells of Calisto, who falls in love with Melibea, in the traditions of courtly love, and the parallel machinations of Calisto's servants. The lovers are brought together by Celestina, a crafty old procuress and matchmaker, who is also a brothel owner and all-round colorful figure. But everyone ends up dead. Calisto dies in a tragic fall and Melibea, on seeing this, jumps to her own death. Celestina is murdered by the servants with whom she is in cahoots and then the servants themselves are caught and sentenced to death. Celestina's fame lived on because she was perhaps the most vibrant and vivid character Spanish readers had ever encountered. Curiously, the book never offended the Inquisition.
Below is Goya's version of Celestina - that's her on the left - Maja y celestina en el balcón, from 1808-12, in the Colección B. March, Palma de Mallorca.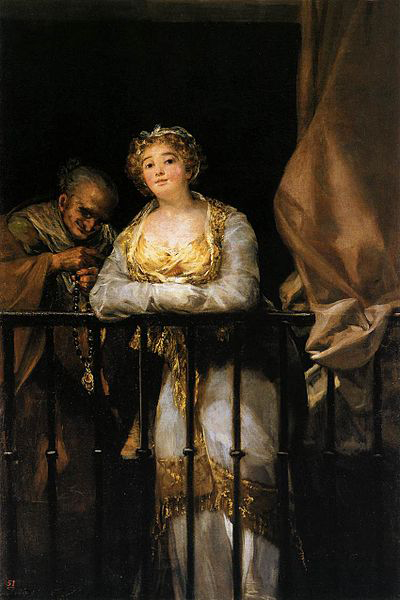 Rojas himself is believed to have been a converso (converted Jew), who may have witnessed his father being burned at the stake. Most Jews were expelled in 1492, but Rojas avoided trouble by living a quiet life in Salamanca and Talavera de la Reina, where he was a lawyer and then mayor toward the end of his life. He died in 1541. Salamanca in 1981 opened a small park in honor of La Celestina - El Huerto de Calisto y Melibea.
Picasso (below) has a modern take on La Celestina. From 1904, this is in Le musée Picasso in Paris and the idea of her being blind in one eye seems to be a Picasso addition. He remained interested in Celestina and, late in his career, in 1968, he produced the illustrated book, La Celestine, which features some of his trademark erotic content. He died in 1973.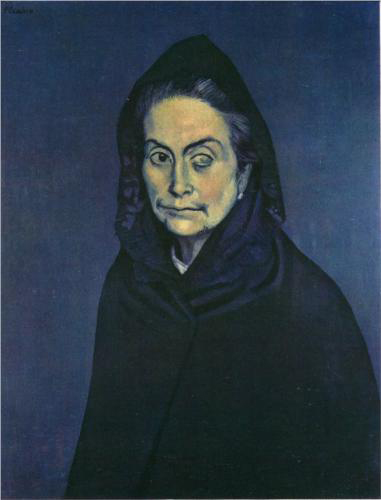 This Celestina below is by the Basque painter Ignacio Zuloaga y Zabaleta, from the same era, in 1906. It would seem that here too Celestina represents all courtesans and prostitutes.