This article accompanies the fable
Immortal Beloved



Helenental
The Helenental is a forested area in the Vienna Woods west of the spa town of Baden bei Wien, along the River Schwechat. Beethoven often walked there and it is said to be the inspiration for the Pastoral Symphony, which he composed between 1802 and 1808.
Leaving Baden bei Wien, you first might have passed the royal palace Schloss Weilburg, built between 1820 and 1823, on the left of the painting below. It was burnt to the ground in 1945. Then you encounter the ruined castles of Rauheneck (on the left) and Rauhenstein. The first painting is from 1885; the second is an earlier Romantic painting from around 1810.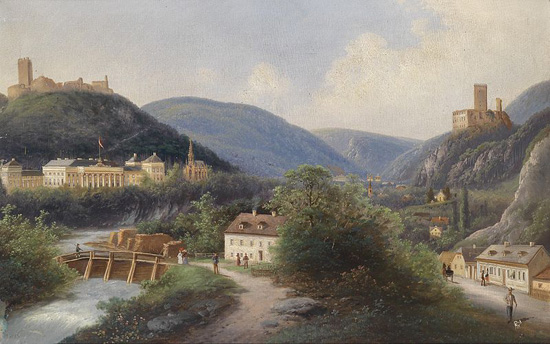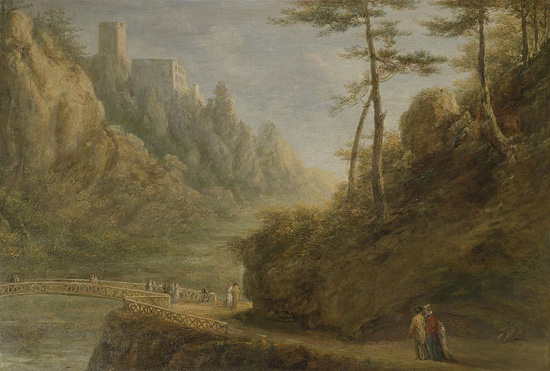 Beethoven's nephew Karl seems to have attempted suicide here in the Rauhenstein ruins in 1826 - the year before Beethoven himself died. He missed but the bullet left a scar.
Deeper into the Helenental the road leads to Mayerling, a hunting lodge (jagdschloss) where the Habsburg Crown Prince Rudolph of Austria and one of his mistresses, Mary Vetsera (who was 17), were found dead in 1889 in, we assume, a murder-suicide pact. All the useful documents were destroyed in the cover-up, but the best guess is that he shot her first and then himself.
There is not much to see there these days since the Archduke Franz Josef converted it into a Carmelite convent (below). The pavilion is on the far left. The bedroom where the bodies were found is now covered by a church (partly visible in the center of the photo behind a tree). The convent website is here. Vetsera is buried at the nearby town of Heilingenkreuz ("Holy Cross"), where there is a famous Cistercian abbey and Prince Rudolph is buried in Vienna.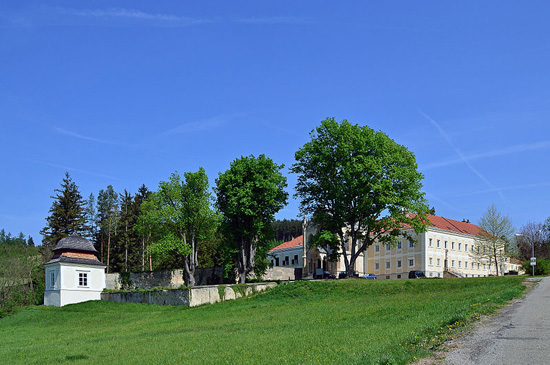 Bottom photo: HeinzLW