This article accompanies the fable
The Whore's Revenge


Goya as a Spanish Casanova
They were contemporaries after all... When Goya painted his infamous La maja desnuda ("The Nude Maja") between 1798 and 1800, it would get him in trouble with the Inquisition (in 1815). Though this is his only erotic painting, it reveals the man as clearly as Casanova's memoirs reveal him. That's a compliment.
It is fascinating to think of Goya painting this after going deaf (in 1792), while juggling a wife and mistresses, just as Casanova was dying and not long before Beethoven himself went deaf.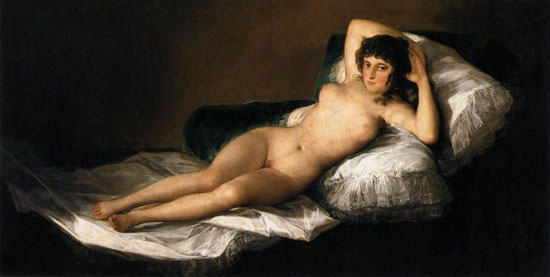 The nude model in question is said to be the Duchess of Alba, María del Pilar Teresa Cayetana de Silva Alvarez de Toledo y Silva Bazán (there are other candidates). She was, by all reports, an extraordinary woman, but art historians get upset by speculation that she and Goya had an affair.
True, there is only scanty evidence to support such claims. But it does seem that her husband had passed away a few years earlier, so what's a widow to do? She herself died only a few years later, in 1802, barely 40 years old. Goya kept the painting in his possession till his death in 1828 at the age of 82 – 26 years after the death of the Duchess.