This article accompanies the fable
Immortal Beloved



German Romanticism and Caspar David Friedrich
"Music is the moonlight in the gloomy night of life" (Musik ist der Mondschein in der düsteren Nacht des Lebens) - the writer Jean Paul
The German Romantics - writers, painters, musicians - celebrated the moon and moonlight, sunset and sunrise, rocky outcrops in the mountains, church ruins and tall ships at sea, influenced by the landscape painters of the Dutch Golden Age and philosophical/mystical ideas about "the sublime" (following Edmund Burke and Immanuel Kant). Few celebrated these ideas more than Beethoven or the painter Caspar David Friedrich.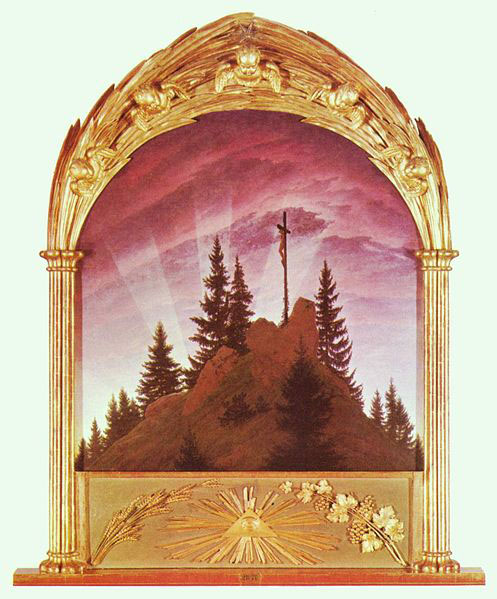 Friedrich first became famous in 1808-1809 with the painting shown above, The Tetschen Altar (Tetschener Altar) or The Cross in the Mountains and the "Ramdohr dispute" about Romantic art that followed. In that dispute he was criticized by religious leaders for placing a crucifixion or altar scene is a (secular) landscape.
He may have made his critics happy soon enough, when he painted the Gothic inspired Ruins of Oybin in the Moonlight (Ruine Oybin bei Mondschein) (1810) - seen below. Oybin is on the German border near the Czech Republic and Friedrich would make his home in nearby Dresden. This is one of the locations that most inspired him and he took walks in the mountains, the Riesengebirge ("Giant Mountains") or Krkonoše/Karkonosze - see also this, one of his most famous paintings.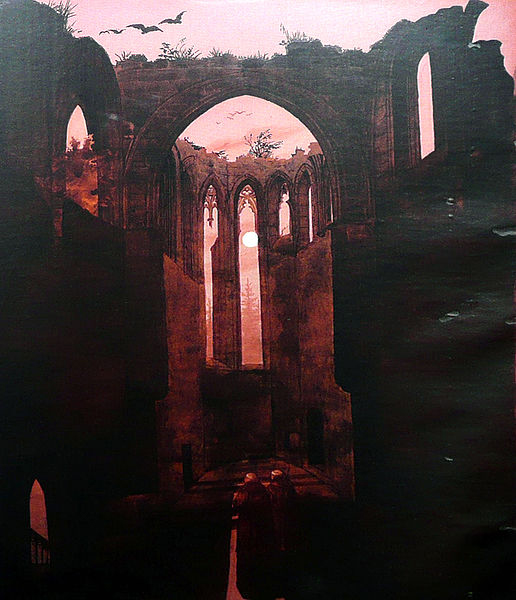 There is a promise here of eternity for the figures in the middle ground. It was a design he would use in most of his paintings. Consider Moonrise over the Sea (Mondaufgang am Meer) (1822) shown below.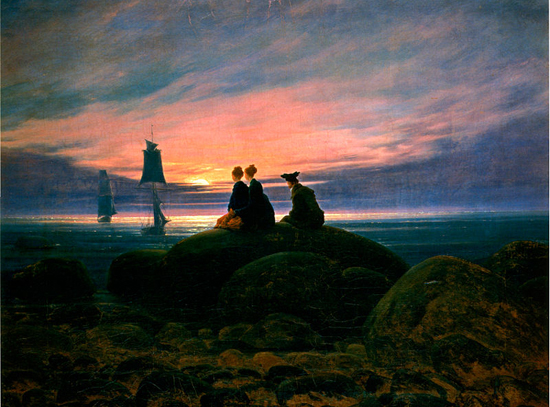 Or Man and Woman Contemplating the Moon (1830-35), below.
The Tetschen Altar is in the Galerie Neue Meister, Dresden. I am not sure where Moonrise over the Sea can be found. The lower two paintings are in the Alte Nationalgalerie, Berlin.