This article accompanies the fable
Splendour in the Grass



Christina's World
Wordsworth's "splendour in the grass" echoes through the years in Andrew Wyeth's evocative Christina's World (1948) and - equally - in the supremely depressing Elia Kazan film Splendor in the Grass (1961).
The story of the woman in Wyeth's painting, Christina Olson, who suffered from polio, is interesting in itself but the mythic qualities of the painting matter more. Wyeth has captured the Romantic vision of quiet repose and endless vistas that were so important to Wordsworth in the Ode: Intimations on Immortality, as well as to subsequent writers such as the Brontës, whose landscapes reflected emotional states - think of Wuthering Heights and perhaps The Tenant of Wildfell Hall and Jane Eyre - but Wyeth has given it a uniquely American flavor. Aspiration is conveyed in Christina's body movement, which draws the eye toward the old house and then on to the horizon beyond. There is an airy optimism here that might not be found in an English painting. It is in the Museum of Modern Art in New York.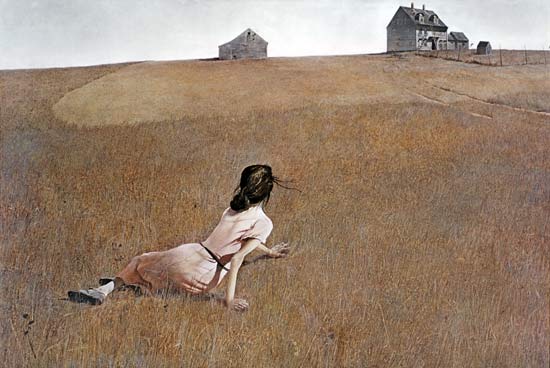 Like Christina, two of the the Brontës were themselves struck down by disease - Emily then Anne in late 1848/early 1849. Below is Top Withens, a ruined farmhouse near Haworth in Yorkshire that is said to have been the inspiration for the Earnshaw house in Emily's novel Wuthering Heights.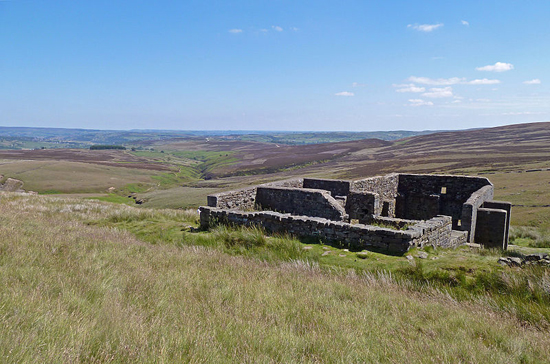 Photo: Tim Green