This article accompanies the fable
Precious Bodily Fluids



Carlo Gesualdo

There have been many operas about the life of Carlo Gesualdo, but all of them have been in the last 20 years. Certain melodramatic figures have led "operatic" lives and they are irresistible to libretto writers.
Gesualdo, however, may have given them pause. The sheer violence of the murders in 1590 and the bouts of jealousy and insanity appeal more to modern audiences than past ones, leading one writer to claim "his life has been the most popular operatic subject of the twenty-first century." Stravinsky so admired his music that he visited Gesualdo's home town - where no one knew who Gesualdo was. Werner Herzog directed a film about his life, Death for Five Voices, in 1995, and other filmmakers have been tempted to tackle the subject. Here he is - the painter of the portrait is unknown.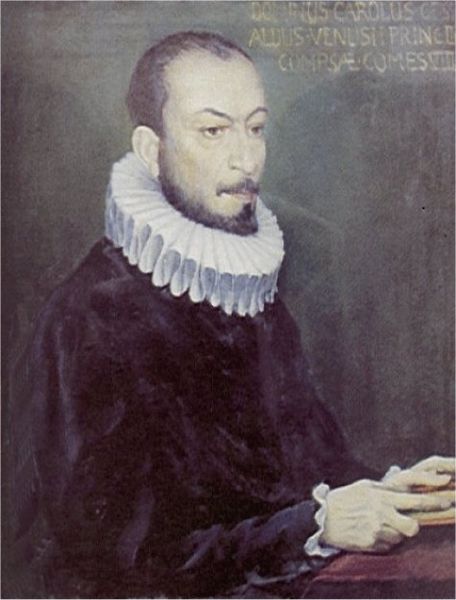 The murder of his first wife apparently made him an eligible bachelor and so, in 1594, he married again, to Eleonora d'Este, who had connections with Ferrara. She was a cousin of Alfonso II, the powerful duke of Ferrara. The advantage to Gesualdo was that he could gain access to Alfonso's court, where he hoped his music could be performed. It was not to be. Alfonso died a few years later in 1597. The marriage went sour quickly and there were rumors that Eleonora helped hasten his death.