This article accompanies the fable
Dreaming the Virgin Mary

Byzantium Timeline
150 Protoevangelium of James (Gospel of James)

325 First Council of Nicaea
330 Foundation of the city of Constantinople

410 Rome sacked by the Visigoths (and St. Augustine begins The City of God)
430 Death of St. Augustine of Hippo
431 Council of Ephesus (Nestorius exiled 4 years later)
451 Council of Chalcedon
450s Church of St Mary of Blachernae built
453 Death of Empress Pulcheria
483 Birth of Justinian

497? Birth of Theodora
517 Timothy becomes patriarch of Alexandria
518 Justin Emperor in Constantinople
520 Theodora in Alexandria and Antioch till 522?
524 Boethius executed in Rome
525? Theodora marries Justinian
527 Justinian becomes Emperor
529 Justinian closes the Greek pagan schools; St. Benedict founds Monte Cassino
530 Battle of Dara: Belisarius' Byzantines decisively defeats the Persian army
532 Nika riots: Hagia Sophia burnt down and 30,000+ killed in the Hippodrome. Construction begins on a new Hagia Sophia (completed by 537) - below. The Islamic minarets came later.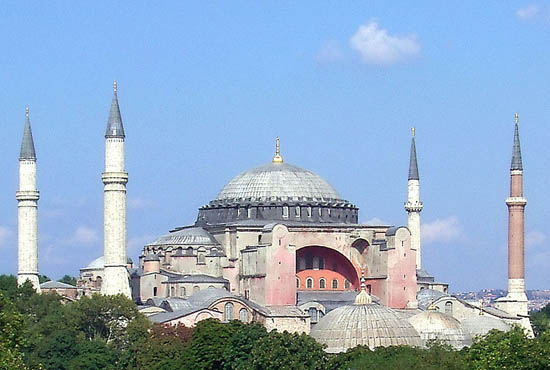 535 Death of Patriarch Timothy III of Alexandria
536 Severus of Antioch anathematized (he died a few years later)
540s Justinian's general, Belisarius, takes Ravenna but for the rest of the decade, things begin to go badly for the Byzantines – Persians sack Antioch in 540.
542 Major bubonic plague pandemic in Constantinople and across the empire - millions die.
544 Three Chapters controversy
548 Death of Theodora
554 Plague in Constantinople
557 Earthquake in Constantinople, Hagia Sophia dome rebuilt
566 Death of Justinian
570s Birth of Mohammed?

614 Sack of Jerusalem by the Persians
626 Virgin Mary saves Constantinople from Persian invasion
640 Byzantine power in Syria and Palestine shattered