This article accompanies the fable
Poison Pen Letters



The Disappearance of Aimee Semple McPherson

It is curious to think that in 1926, only 7 months before Agatha Christie disappeared for 11 days, the famous evangelist Aimee Semple McPherson disappeared in Los Angeles for 35 days.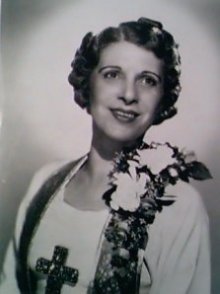 Born in Canada, McPherson based herself in Los Angeles from 1918. Her fame spread rapidly, enabling her to found her enormous church, the Angelus Temple in Echo Park, Los Angeles in 1923 (shown below in a recent photo). She brought a fabulous sense of showbiz to her sermons and she pioneered Christian radio brodcasts to promote her gospel message around the U.S. But she was also notable for breaking down racial barriers (or at least ignoring them) and being a role model for women.
The mystery began when McPherson disappeared while swimming near Venice Beach in May 1926 and was thought to have drowned. Days of publish anguish followed. 35 days later she reappeared out of the desert in northern Mexico, claiming she had been abducted. However, speculation turned immediately to rumors of an affair covered up, which seems to have been the most likely explanation. She recovered from the embarassment but things were never the same again. She died in 1944.